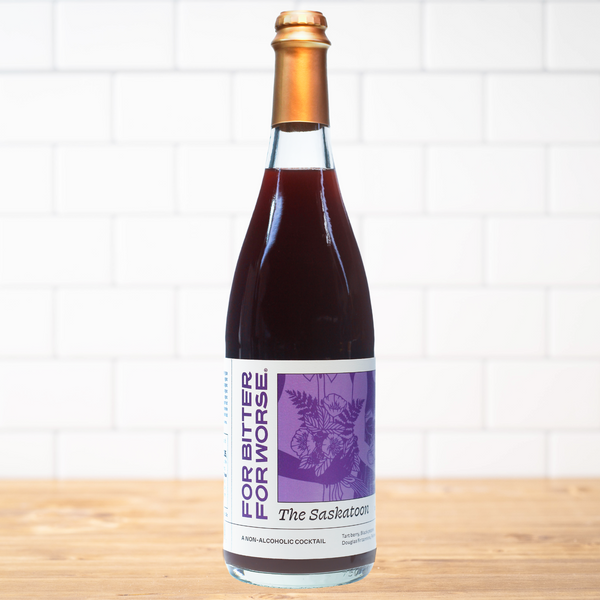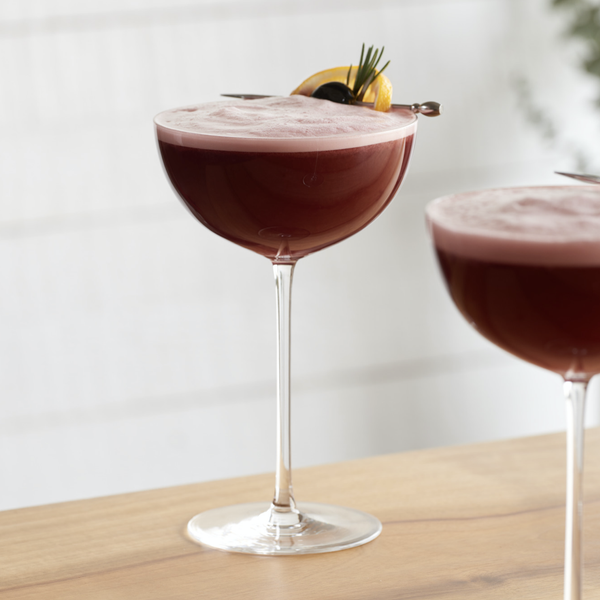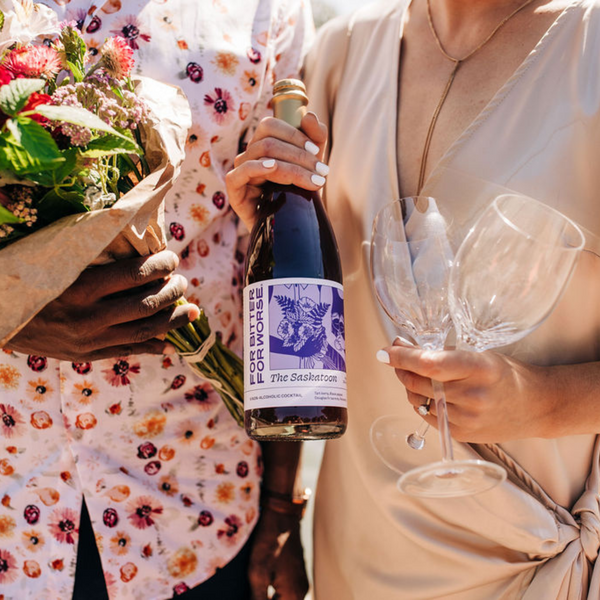 For Bitter For Worse Saskatoon
TASTES LIKE: Italian amaro and sweet vermouth meet dark berries in the Pacific Northwest
.
If you love bitter flavors, this delicious aperitif is for you. Saskatoon berries, native to the Pacific Northwest, are combined with botanicals including gentian (a classic bittering agent used in sweet vermouth, Italian amaros like Campari and French aperitifs like Suze), orange peel and Douglas fir tips. Combined with a non-alcoholic gin, this scratches the Negroni itch to a tee. You can also serve it plain over ice as an alternative to red wine with BBQ or hearty meat dishes.
You'll love this if you enjoy
Negronis
Sweet vermouth
Bitter flavors

How to Serve
Over ice in a wine or rocks glass with an orange slice

With non-alcoholic gin for a take on the Negroni
With fruit and sparkling water for a non-alcoholic Sangria
About For Bitter For Worse
As the name suggests, For Bitter For Worse specializes in bitter flavors - which are all too often absent from the non-alcoholic drink space. Husband and wife team Shelley and Jeff draw inspiration and source many of their ingredients from the Pacific Northwest, where they are based. Their products are sweetened with monk fruit, wine grape nectar and maple syrup and contain no added flavors.
PRODUCT DETAILS
Ingredients:
Filtered water, white wine grape concentrate, saskatoon juice concentrate, organic spices, organic sweet orange peel, organic hibiscus, organic rhubarb root, organic gentian root, organic bitter orange, non-GMO citric acid, organic dried chamomile flowers, foraged douglas fir needles, organic hyssop, organic angelica root, organic roasted dandelion root, non-GMO monk fruit
Contains no milk, eggs, tree nuts, peanuts, wheat, fish, crustacean shellfish, or soybeans
Nutritional Information:
Contains less than 0.5% alcohol by volume. 
Contains 35 calories, 8g sugar, 9g carbohydrate per 4 oz serving.

Bottle Size:
Bottle size 750 ml (6 servings)