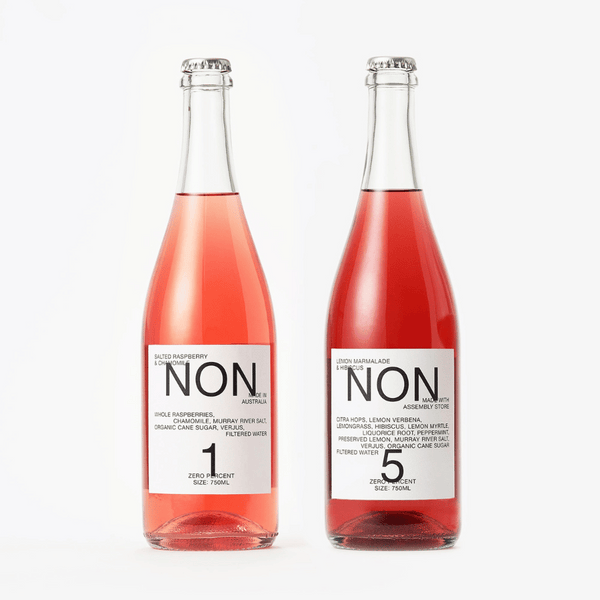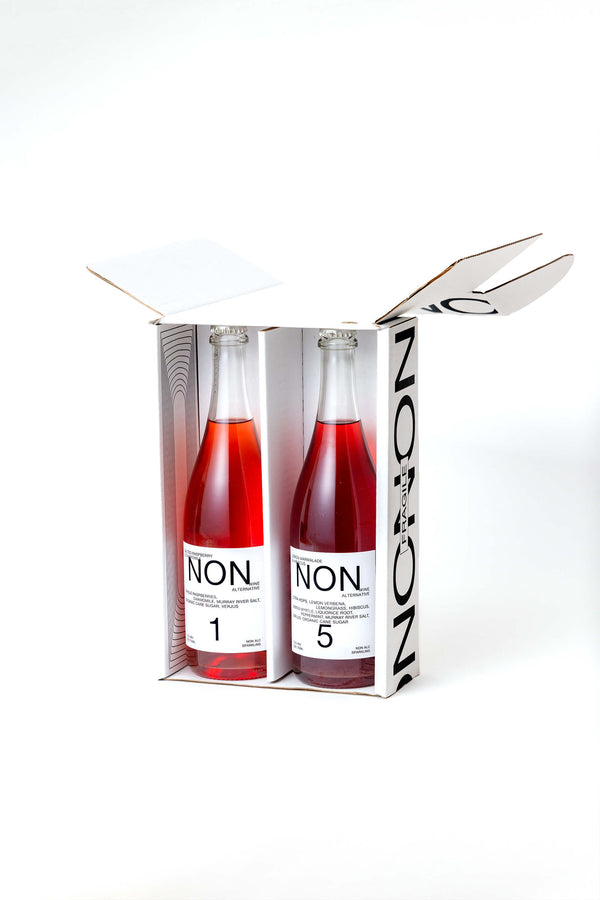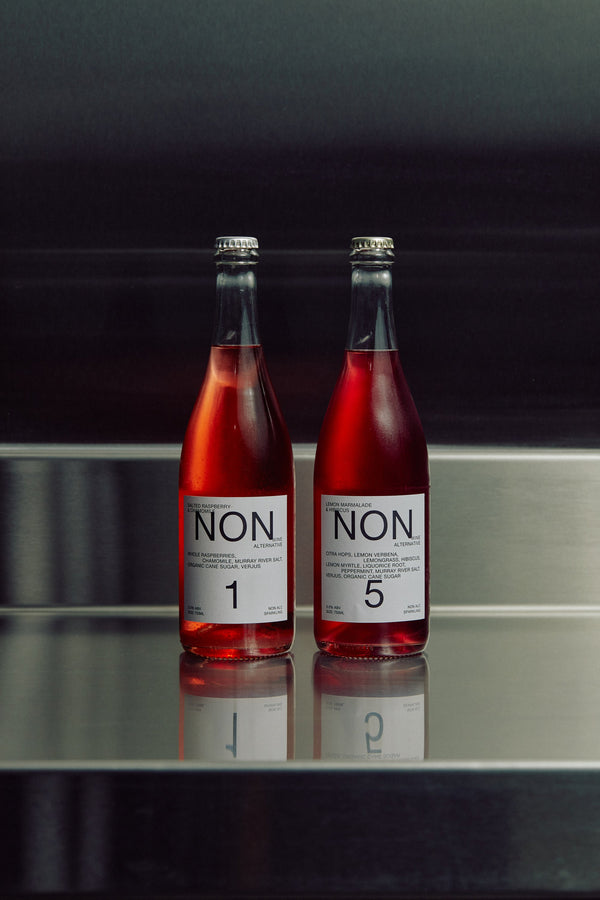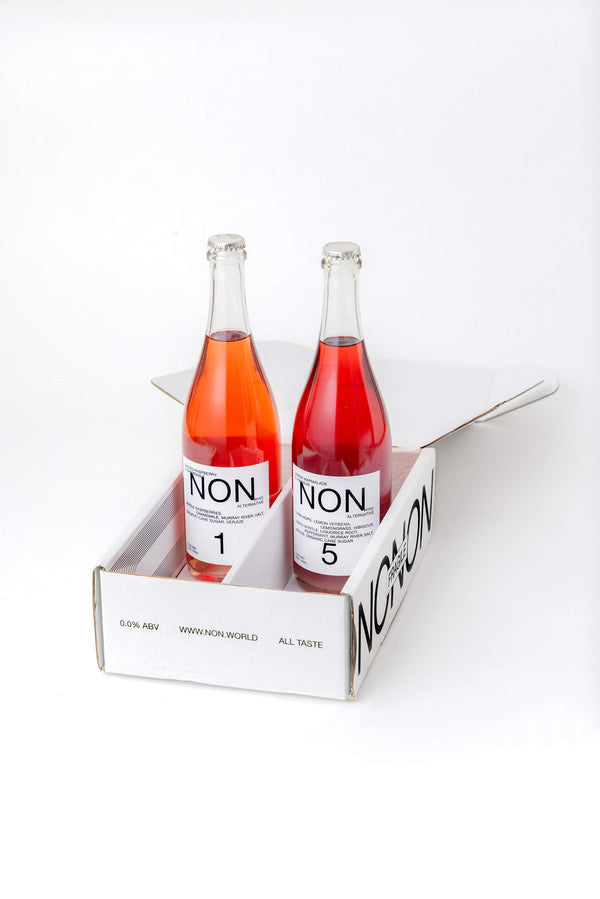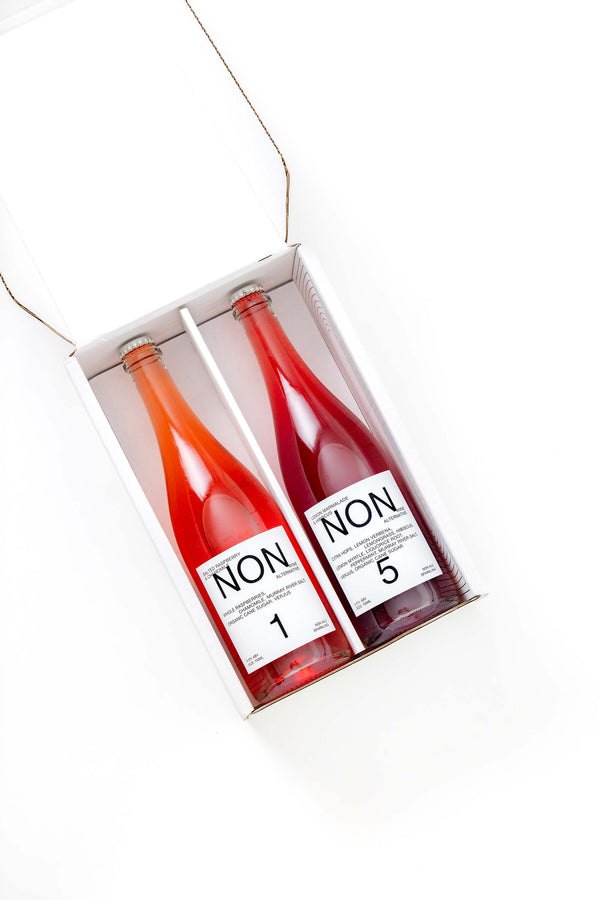 Fulfilled by our friends at NON USA with free shipping!
A beautiful set of two sparkling  rosé wine alternatives. Each set includes one bottle each:

NON1 SALTED RASPBERRY & CHAMOMILE
Balanced sweet & salty. Chamomile provides lingering tannins for a floral finish. Sparkling.

NON5 LEMON MARMALADE & HIBISCUS

Tart native citrus, floral body, menthol aroma & finish. Sparkling.
Vegan, gluten-free and halal.
ABOUT NON
Founded by, Aaron Trotman, a serial entrepreneur and foodie on a mission to create the future of drinks, NON is an intricate balancing act of flavour built from the ground up with key notes of floral, tannin, salinity & acidity and a bold, minimalist.
Designed by a team of expert food & beverage professionals, NON draws from a vast base of knowledge from all areas, ranging from chefs, bartenders, food scientists and winemakers.

Made in our purpose-built NON Laboratories in Melbourne, Australia; one of the epicentres of the gastronomic world, NON is a 0.0% re-think of the wine experience.

PRODUCT DETAILS
INGREDIENTS
NON1 - WATER, VERJUS, RASPBERRIES, CHAMOMILE, SUGAR, SALT, PRESERVATIVES 211, 220, 224
NON5 - WATER, VERJUS, SUGAR, LEMON VERBENA, LEMONGRASS, PEPPERMINT, LEMON MYRTLE, HOPS, SALT, HIBISCUS, LIQUORICE ROOT, PRESERVATIVES 211, 220, 224
STORAGE
STORE IN A COOL, DRY PLACE. USE A SPARKLING STOPPER TO PRESERVE CARBONATION. REFRIGERATE AFTER OPENING AND CONSUME WITHIN 5-7 DAYS.
NOTES
NATURAL SEDIMENT MAY OCCUR, AGITATE GENTLY BEFORE SERVING. THE USE OF NATURAL INGREDIENTS MAY RESULT IN SLIGHT VARIANCES IN COLOR AND PROFILE.