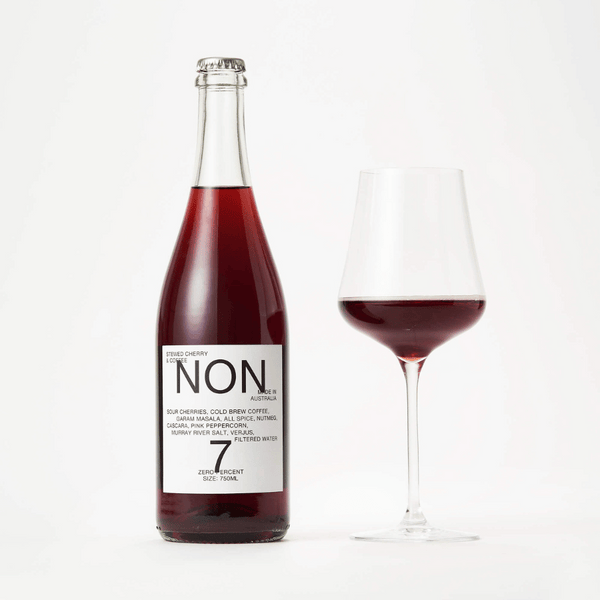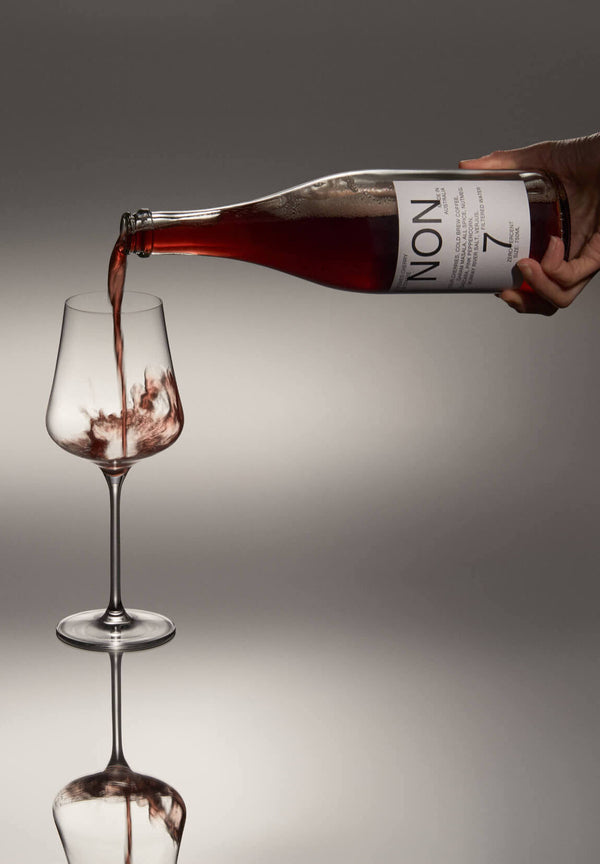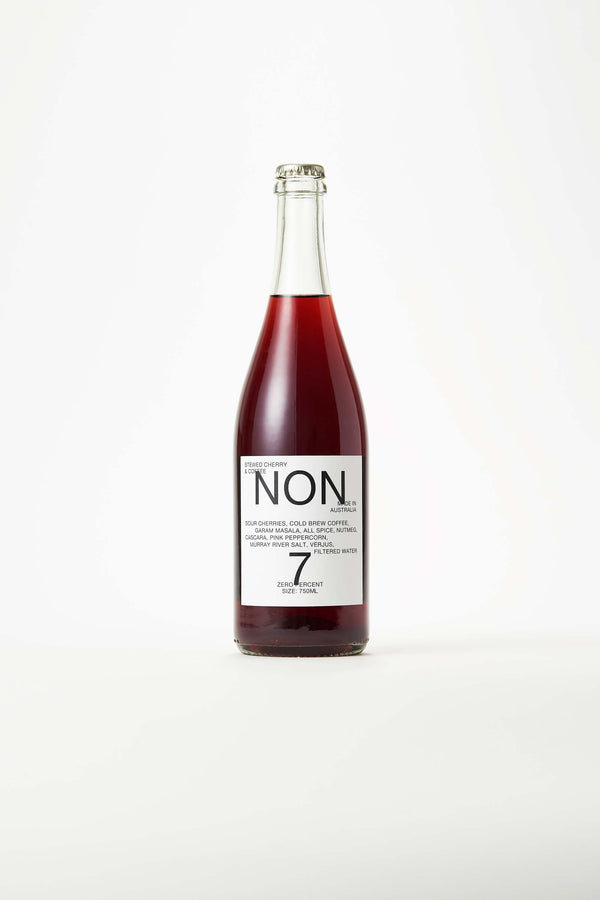 NON7 Stewed Cherry & Coffee
Fulfilled by our friends at NON USA with free shipping!
Rich dark fruits, spiced nose, undertones of coffee. Sparkling.
Pair with dark chocolate, stuffed mushrooms or charcuterie.
Perfect for an afternoon pick-me-up, dinner parties & winter hangouts.

Contains caffeine.
Vegan, gluten-free and halal.
ABOUT NON
Founded by, Aaron Trotman, a serial entrepreneur and foodie on a mission to create the future of drinks, NON is an intricate balancing act of flavour built from the ground up with key notes of floral, tannin, salinity & acidity and a bold, minimalist.
Designed by a team of expert food & beverage professionals, NON draws from a vast base of knowledge from all areas, ranging from chefs, bartenders, food scientists and winemakers.

Made in our purpose-built NON Laboratories in Melbourne, Australia; one of the epicentres of the gastronomic world, NON is a 0.0% re-think of the wine experience.
HOW IT'S MADE
FRUIT: Cherry & spice mix is "stewed" in oven for 2 hours to create a jam blend of bloomed spices and caramelised cherries.
TANNIN: Cold brew coffee givers a chocolate finish and adds tannin.
SALINITY: Murray River salt provide salinity and creates a moorish sensation.
ACID: Verjus from Semillon grapes from the Barossa Valley, Australia.
BALANCE: No added sugar.
CAFFEINE: 5% of a cup of coffee per glass.
PRODUCT DETAILS
NUTRITION
| | |
| --- | --- |
| Servings per container | 5 |
| Serving size | 150ML |
| Calories per serve | 30 |
| Total Fat | 0.15g |
| Saturated Fat | <0.1g |
| Cholesterol | <0.1g |
| Sodium | 70.5mg |
| Total Carbohydrates | 9.45g |
| Dietary Fibre | 0g |
| Total Sugars | 6.15mg |
| Added Sugar | 0g |
| Protein | 0.45g |
| GLUTEN | NOT DETECTED |
INGREDIENTS
SOUR CHERRIES, COLD BREW COFFEE, GARAM MASALA, ALL SPICE, NUTMEG, CASCARA, PINK PEPPERCORN, MURRAY RIVER SALT, VERJUS, WATER, PRESERVATIVES 211, 220, 224

STORAGE
STORE IN A COOL, DRY PLACE. USE A SPARKLING STOPPER TO PRESERVE CARBONATION. REFRIGERATE AFTER OPENING AND CONSUME WITHIN 5-7 DAYS.

NOTES
NATURAL SEDIMENT MAY OCCUR, AGITATE GENTLY BEFORE SERVING. THE USE OF NATURAL INGREDIENTS MAY RESULT IN SLIGHT VARIANCES IN COLOR AND PROFILE.