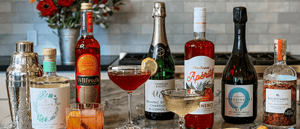 Be more inclusive with gifts for your colleagues, clients and partners. For those who choose not to drink alcohol for whatever reason (health, pregnancy, religion, fitness, the list goes on!), offer them a high-quality non-alcoholic option. Even those who do drink alcohol can appreciate our diverse array of drinks!
Choose from our existing mocktail kits and sampler packs, or contact us to put together something custom.
We are happy to work with you to create a bespoke gift to showcase your brand and offer a higher-touch experience.
Customization options include:
- Personal note on your letterhead
- Co-branded mocktail recipe cards with your logo
- Glassware and bar tools
- Food items such as chocolate, bar snacks or dried fruit garnishes
Contact us to learn more!