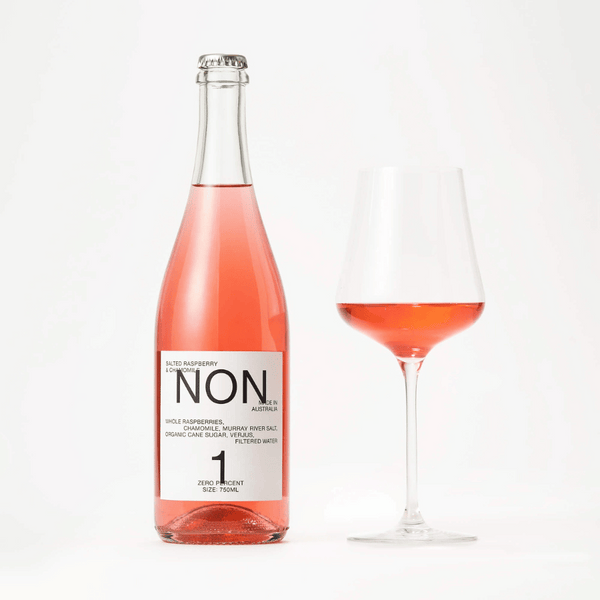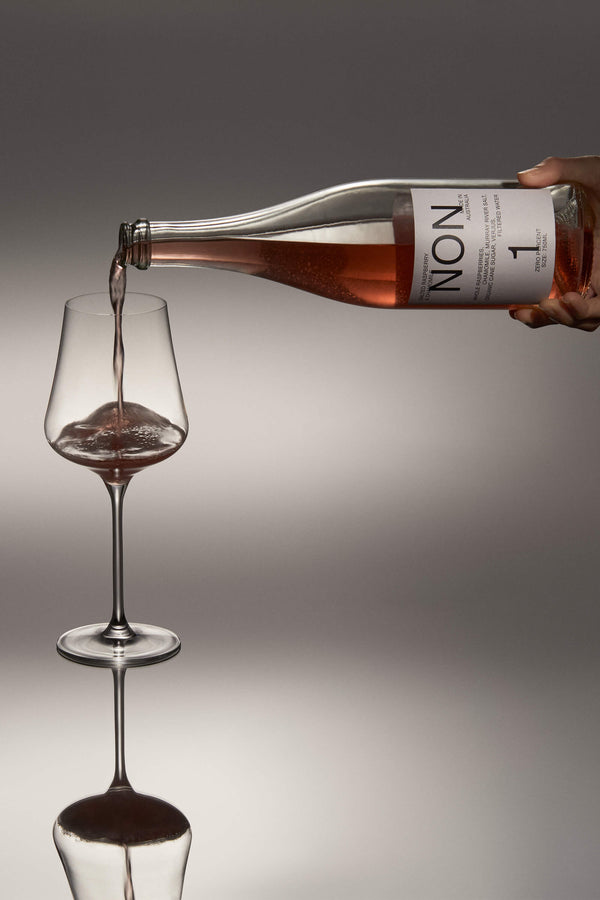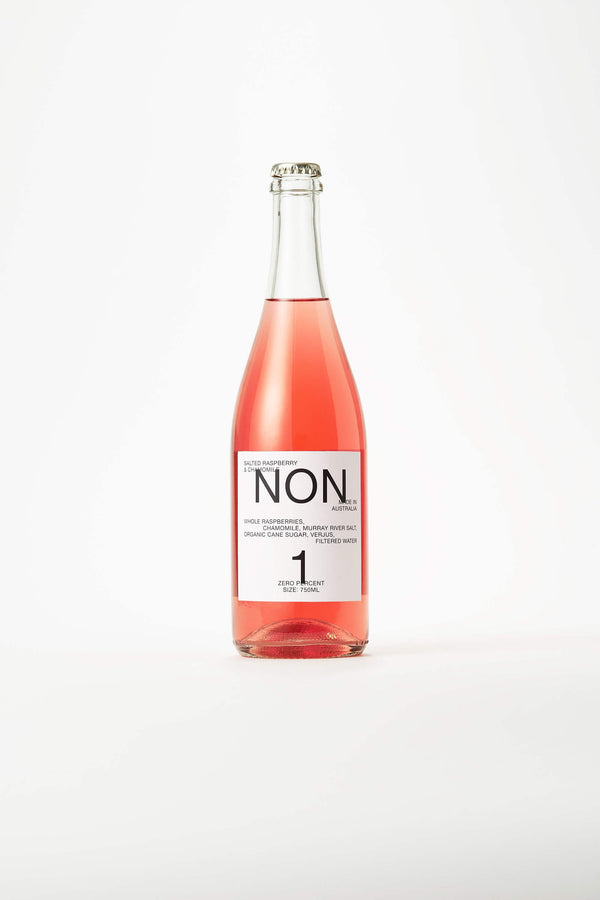 NON1 Salted Raspberry & Chamomile
Fulfilled by our friends at NON USA with free shipping!
Balanced sweet & salty. Chamomile provides lingering tannins for a floral finish. Sparkling.

Pair with citrusy salads, creamy desserts or cured meats.
Perfect for self-relaxation, brunches and date night.
Vegan, gluten-free and halal.
ABOUT NON
Founded by, Aaron Trotman, a serial entrepreneur and foodie on a mission to create the future of drinks, NON is an intricate balancing act of flavour built from the ground up with key notes of floral, tannin, salinity & acidity and a bold, minimalist.
Designed by a team of expert food & beverage professionals, NON draws from a vast base of knowledge from all areas, ranging from chefs, bartenders, food scientists and winemakers.

Made in our purpose-built NON Laboratories in Melbourne, Australia; one of the epicentres of the gastronomic world, NON is a 0.0% re-think of the wine experience.
HOW IT'S MADE
FRUIT: 48 hour cold steep of freeze-dried raspberries, sourced from Mornington Peninsula. Freeze drying removes the 85% water molecules from the fruit, which concentrates the flavour. 
TANNIN: Chamomile used for tannin & creamy finish. Raspberry skins provide a small amount of tannin.
SALINITY: Murray River salt provide salinity and creates a moorish sensation.
ACID: Verjus from Semillon grapes from the  Barossa Valley, Australia. 
BALANCE: Just like the kitchen, sugar used to balance at the end depending on the natural sweetness of the raspberries.
PRODUCT DETAILS
NUTRITION
| | |
| --- | --- |
| Servings per container | 5 |
| Serving size  | 5 FL/OZ |
| Calories per serve | 37 |
| Total Fat | 0.15g |
| Saturated Fat | <0.15g |
| Cholesterol | <0.1g |
| Sodium | 121.5mg |
| Total Carbohydrates | 8.25g |
| Dietary Fibre | 0g |
| Total Sugars | 7.05mg |
| Added Sugar | 2.25mg |
| Protein | 0g |
| GLUTEN | NOT DETECTED |
INGREDIENTS

WHOLE RASPBERRIES, CHAMOMILE, MURRAY RIVER SALT, ORGANIC CANE SUGAR, VERJUS, WATER, PRESERVATIVES 211, 220, 224
STORAGE
STORE IN A COOL, DRY PLACE. USE A SPARKLING STOPPER TO PRESERVE CARBONATION. REFRIGERATE AFTER OPENING AND CONSUME WITHIN 5-7 DAYS.

NOTES
NATURAL SEDIMENT MAY OCCUR, AGITATE GENTLY BEFORE SERVING. THE USE OF NATURAL INGREDIENTS MAY RESULT IN SLIGHT VARIANCES IN COLOR AND PROFILE.