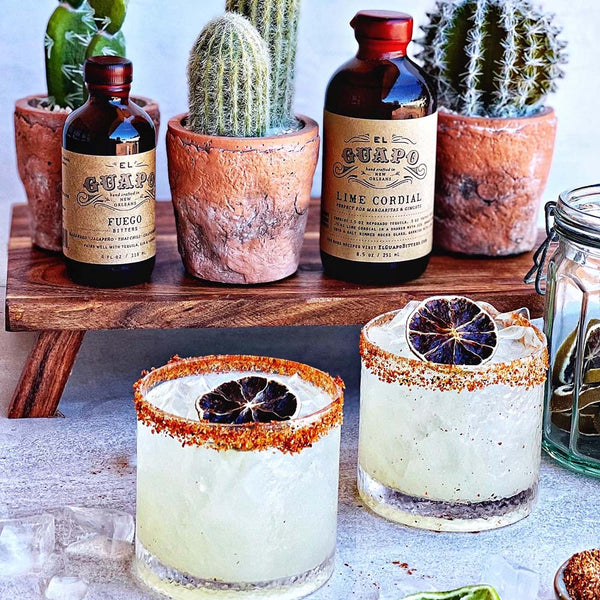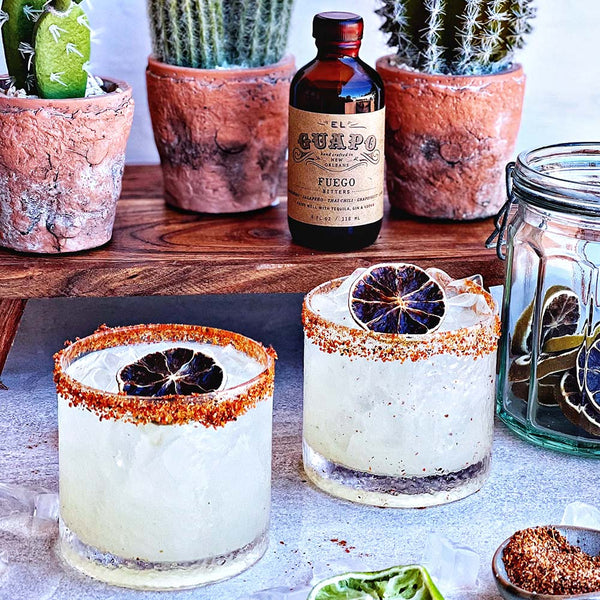 El Guapo Tajin Margarita Kit
Fulfilled by our friends at El Guapo with free shipping!
Mix up a batch of spicy alcohol-free Margaritas! Each kit includes one bottle each:
Lime Cordial (8.5 oz)
Fuego Bitters (4 oz)
Combine with non-alcoholic (or alcoholic) mezcal, or go halfsies. 
RECIPE:
• 2 oz (alcoholic or alcohol-free) Mezcal
• 1/2 oz Cointreau*
• 1/4 oz El Guapo Lime Cordial 
• 3-4 dashes El Guapo Fuego Bitters
• Tajin & dehydrated lime wheels, for rim + garnish for rim
Turn a lowball upside down & dip rim into water or lime juice before dredging in Tajin to create rim. Carefully fill glass with rocks & avoid touching the rim. In a shaker filled with ice, at Mezcal, Cointreau, Cordial and bitters. Shake until well chilled & strain over rocks. Garnish with a dehydrated lime wheel and serve. 
* Cointreau is an orange liqueur. You can use it for a low-proof cocktail, or substitute 1/2 oz plain simple syrup plus a few dashes of orange bitters for a zero-proof version.